Use this link for infobox link insertion. http://community.wikia.com/wiki/Help:Links
George Earl Paton (transcribed as Earle on his baptismal record) (1923-2006) lived in Rollo Bay West, PEI on the St. Charles Road. He was an avid gardener and spent much of his working life in carpentry. He was married to Margaret Paton (nee Young), and together they had three children: Elva, Andy (George Andrew), and Keith. He is buried in the United Church Cemetery in Bay Fortune.
Early Years
Edit
George was born on June 28 1923 in his family home on the Burke's Road (now St. Charles Road) to parents
Andrew Paton
and
Lydia 'Jane' Chaffey
. He was part of what became a seven child family. Two siblings, Samuel Bruce and Annie died in infancy, while Jessie, Andrew Jr., George, John and
Flora
survived to adulthood. George was baptized on 24 May 1924, by an E. Lockhart at St. James United Church in Souris.
[1]
George attended school in a one room schoolhouse in Rollo Bay West, located at the top of Rollo Bay hill, across from the present day property owned by Dr. Jack. The Guardian notes that George was highest standing in his class for the month of January 1932, and that at that time he had a perfect record of attendance
[2]
. All three of his children subsequently attended the same school until Fortune Consolidated School was opened in the 1960s. He attended school until the completion of grade ten, wherein he dropped out to attend Holland College for a carpentry course.
Married Years
Edit

George had met Margaret Young through some mutual friends of hers who used to travel into Souris on Saturday nights. He was known for his prominent black moustache which earned him the nickname "Boston Blackie". In July of 1953 while Margaret was in Boston he came to visit her and proposed to her in Everett, Massachusetts. Margaret agreed to marry him and they set a date for a November wedding.
When George returned to Souris an uncle of his persuaded him to opt for a wedding in August, as he felt a winter wedding would be best avoided. Margaret agreed to this as well; she promptly quit her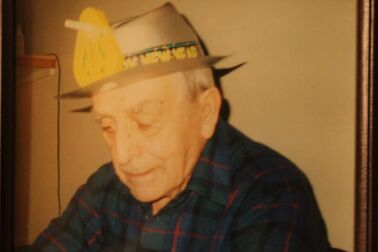 job in Boston and the two were married on August 12 1953 by Reverend H. R. Bell at the home of George MacDonald in Kingsboro. After the wedding the couple borrow a neighbours car and travelled by car ferry to Cape Breton where they honeymooned along the Cabot Trail for the weekend.
Once graduated from Holland College George spent a large portion of his life as a carpenter. He also worked as a fish buyer at Naufrage Harbour for Donovan's buying mackerel, lobsters, etc. For some time he worked in Keith MacKenzie's garage in Souris as well as driving a dump truck owned by Cliff Townshend.
Throughout his entire life George was an avid fan of hockey, where he was involved as a player, coach, and referee. He played and practiced at the rink in Souris, although for a time there was an outdoor rink in Red Point which was popular. In his later years he coached the Fortune Flyers and most recently the Bridgetown team.
George died on December 21st, 2006 and was buried in the cemetery at the United Church in Fortune.
Test Work
Edit
Full Name
George Earl Paton
Place of Birth
Rollo Bay West
Lived In
Rollo Bay West
Date of Birth
28 June 1923
Date of Death
21 December 2006
Date Married
12 August 1953
Spouse
Margaret Paton
Siblings
Jessie, Andrew Jr., John, Flora,

baby Samuel Bruce, baby Annie

Children
Elva Paton, Andy Paton,

Keith Paton
↑

PEI Public Archives, Baptismal Record.

↑

The Guardian. 25 February 1932. Page 11.